Commercial Excavating
Shadley Valley Excavating is an experienced Commercial and Residential Excavating company located in Danville, Ohio. We offer a very long list of services that we proudly provide for our clients. We are prepared to tackle any project that you are ready to begin; no job is too big or small. We are insured and bonded, and we always offer Free Estimates.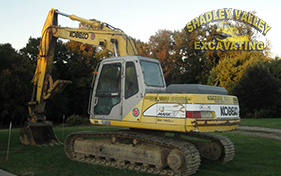 Shadley Valley Excavating has a fairly large service area. We currently serve the following areas: Coshocton, Knox, Licking, Marion, Morrow, and Muskingum Counties. That includes the following: Apple Valley, Fredricktown, Granville, Howard, Loudonville, Mt. Gilead, Mt. Vernon, Newark, Utica, Zanesville, and more. We offer service in a 50 mile radius, but for the right job would be willing to travel further to suit your needs. Call us today at (740) 599-7114, if you have questions or for more information. Shadley Valley Excavating offers Demolition Services that include: Clearing of Fence Rows, Stump Removal, Tree Removal, and Lot Clearing. Commercial Excavating Services Include:
Dirt Work
Backfill
Rough Grade
Finish Grade
Retaining Walls
Stone
Develop, Build, Drain, or Repair Ponds
Building Pads
Tile Installation for Footers
Gravel & Fix
Septic
Re-Dig Walls
Re-Dig Footers
Step Buildings
Set Catch Basins, Field Tile, and Culverts
Parking Lots
Shadley Valley Excavating can handle all of these services and more. If you want to start any of these projects, give us a call at (740)599-7114. Any of our professional and experienced staff is happy to schedule your free estimate and get you started on your commercial excavating needs.