Equipment and Trucks
Shadley Valley Excavating currently has a fleet of equipment and trucks to handle all of your excavating needs. Are you ready to start your next project and need excavation or hauling? Shadley Valley Excavating can help.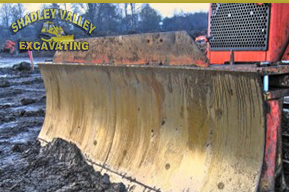 Equipment Available:
Skid Loader
Mini Hoe
Track Hoe
Dozer
Attachments available for Mini Hoe, Skid Loader, and Excavator are:
Grapple
Block Forks
Pallet Forks
Post Hole Digger
Jack Hammer
Rock Hound
Brush Hog
Excavator Buckets for the Mini Hoe: 1 ft., 18 in., 2 ft., and 4 ft. Excavator Buckets for the Track Hoe: 2 ft. and 42 in.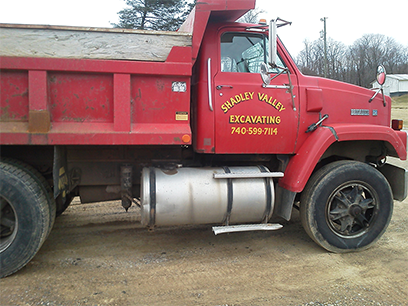 Trucks Available: • Single Axle • Tandem
We do hourly hauling of Dirt, Trash, Stumps, Concrete, and more.
Trailer Hauling: • 7 YD Single – 15 Ton Limit • 10 YD Tandem – 20 Ton Limit • Gooseneck – 6 ½ Ton Limit
We can haul Gravel, Topsoil, Shale, Stones, Skidders, Trucks, Tractors, Steel, Lumber, and Junk. Pretty much anything you need hauled, we can haul it.

Call us today with questions or for more information. We can be reached at (740)599-7114.